I blog here. These are my generally unvarnished thoughts. Here's a picture of me: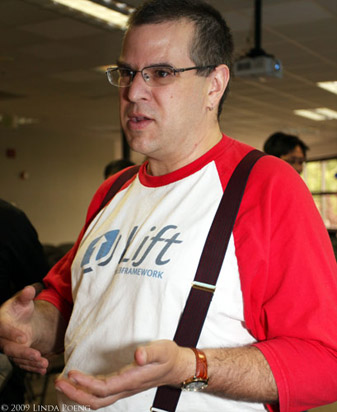 I'm currently founder and CEO of Telegram, Simply Beautiful CMS. Telegram lets anyone who can use Word or a text editor create a beautiful web site, blog, or any other web presence. Telegram is for me so I can blog. Telegram is for my kids' school so the web site is up to date. Telegram is for restaurants so they can publish their daily menu from Dropbox. Telegram is for open source projects like Lift to publish a web site. Here's a resumé.
I'm also working on Visi.Pro where I am working to bring the power of modeling and development (think Excel, HyperCard, Access, FileMaker Pro) to the cloud and mobile devices. Basically, I want to make it easy for folks who don't self-identify as developers to access data across the cloud and make that data available on mobile devices.
In 2006, I was an early adopter of Scala and I founded the Lift web framework project. I wrote Beginning Scala. I continue to contribute to Lift and run the Scala Lift Off conference.
I did consulting during the 2004-2006 period and I also founded DogScape because I wanted a place for my dog, Archer, to blog.
From 2002-2004, I was Vice President of Engineering and CTO at Cenzic. I helped to define the web application security category and my team built Cenzic's Hailstorm technology.
I was CTO of CMP Media's NetGuide Live. It was a fun ride being in San Francisco during the infancy of the web.
I founded Athena Design and wrote Mesa for NextStep (now available for OS X). I also wrote much of Mesa 2 for OS/2 and Dan Kulp maintained it for years. Mesa was the first real-time spreadsheet.
I received a JD from Boston University School of Law in 1991 and was admitted to the Rhode Island Bar in 1992.
I receive a BA in Psychology and Economics from Rhode Island College in 1987.
I co-authored 64 Doctor with Eric Berkowitz.
Conferences
athena.com
No, athena.com is not for sale. Really. Even if your girlfriend's name is Athena. Even if you have a cool start-up that you really can't tell me about but that would benefit from the domain. Even if you are an entrepreneur like me. No, I'm not interested in discussing why. Sorry for sounding like a jerk about it, but I get a couple of requests per week to sell the domain and I've been saying "no" for 16 years. It's not likely that I'll say "yes" to you.